As consumers of the products from pharmaceutical companies, we all want to be sure that we can trust the products they produce. Fortunately, pharmaceutical companies are heavily regulated, and their operations are being constantly monitored. The US Food and Drug Administration (FDA) is the main authority that regularly audits pharma companies globally to ensure they are compliant.
Every year, the FDA gives hundreds of warnings to pharma companies that fail to comply with regulations. So even they are not perfect! Most of these warnings are not related to calibration, but some are. I analyzed the warnings related to calibration and in this article, I list the most common calibration-related warnings issued. If that sounds interesting, please continue reading.
Table of contents
I recommend browsing through the whole article, but you may also jump straight to the underlined main topic:
The FDA in brief
The FDA (https://www.fda.gov/) is a US government agency protecting public health by ensuring the safety, effectiveness, and security of drugs, biological products, and medical devices.
The FDA audits pharmaceutical companies and ensures that they operate according to the relevant regulations. Although the FDA is a US authority, any pharma company that wants to sell products in the US needs to comply with FDA regulations and will be subject to their audit processes. Therefore, in practice the FDA requirements are global.
If the FDA find evidence of non-compliance during the audits, they will issue a form 483, and it may lead to a warning letter. The FDA even has the power to shut down a plant if they find serious non-compliance.
So, it's pretty obvious that the pharmaceutical companies are on their toes when an FDA auditor arrives.
In addition to the FDA, there are other authorities auditing pharma companies, including the European Medicines Agency (EMA) and the UK's Medicines & Healthcare Products Regulatory Agency (MHRA), plus national agencies in other countries. So, pharmaceutical companies are audited regularly by other authorities in addition to the FDA.
Hopefully, the Multilateral Recognition Agreements (MRA) between the authorities keep developing so that pharma companies are not subject to multiple audits by different authorities.
Warning letter
As mentioned, when an FDA auditor investigates a pharmaceutical company, the observations of non-compliance will be written into a 483 form. Depending on their criticality and/or number of the observations, it can lead to a warning letter. The pharmaceutical company then has to provide a response to the letter and perform sufficient corrective actions to correct the observations.
These warnings are publicly available and they can be found on the FDA website from this link: https://www.fda.gov/inspections-compliance-enforcement-and-criminal-investigations/compliance-actions-and-activities/warning-letters

There are currently almost 3,000 warning letters listed on the FDA site, dating from 2019 until now.

For the last three years, there have been around 600 warning letters issued annually, distributed as shown in the below image: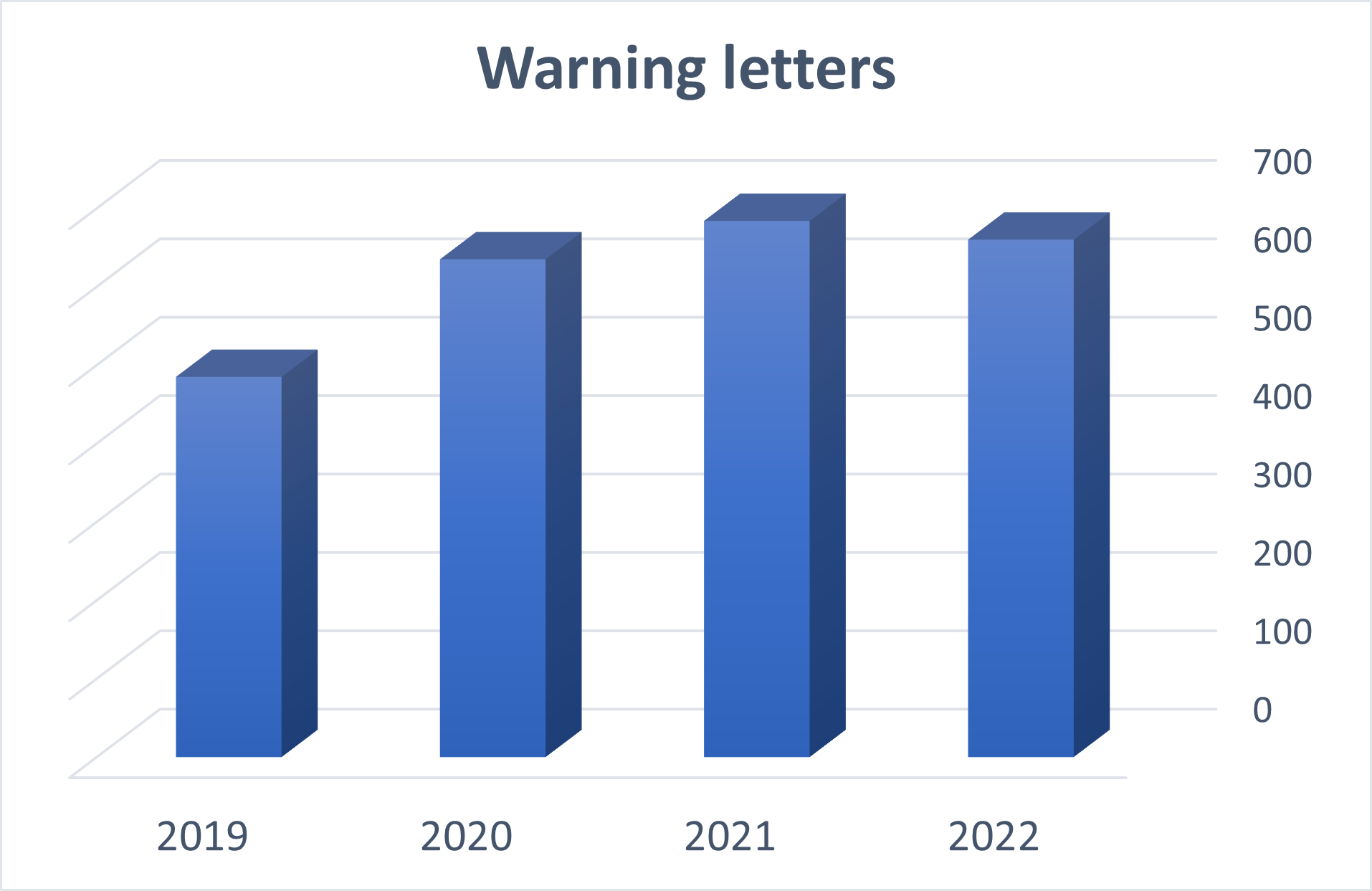 The most common general warnings
As there are so many letters, it gets complicated to analyze them all, but generally available information lists the most common reasons for warnings being:
Absence of written procedure, or not following written procedures
Data records and data integrity issues
Manufacturing process validation – Lack of manufacturing controls
False or misleading advertising
Issues with environmental monitoring
Many are generally referred as "Failure to meet Good Manufacturing Practices".



The most common calibration-related warning letters
This article is not about all the warning letters, only the ones that are somehow related to calibration. Needless to say, I am mostly interested in calibration-related topics 😊
So, I investigated all the warnings for the last three years: 2020, 2021, and 2022. There have been almost 2,000 warning letters issued during those three years!
If we look at how many warning letters are related to calibration, we can see that it is actually quite a modest share of the warnings. It seems that about 2% of the warning letters include comments on calibration.
While most of these companies are located in the US there are also some from South America, Europe, and Asia.
Obviously, some of the generic warnings can also have calibration included, although not separately mentioned. These include maintenance-related issues, written procedures missing, and issues with data records and manufacturing controls, to mention a few.
I analyzed all the warning letters that have calibration mentioned in them. Let's look at what kind of calibration-related topics seem to be the most common.
I grouped the calibration-related warnings into the following categories and their share is mentioned in the below list:
Inadequate calibration program: 33%

Failed to routinely calibrate instruments: 19%

Lack of calibration records: 16%

Use of non-calibrated calibration instruments: 11%

Insufficient calibration to prove required accuracy: 5%

Test equipment not calibrated for the required range: 5%

All others: 11%
The image below illustrates the most common calibration-related warnings.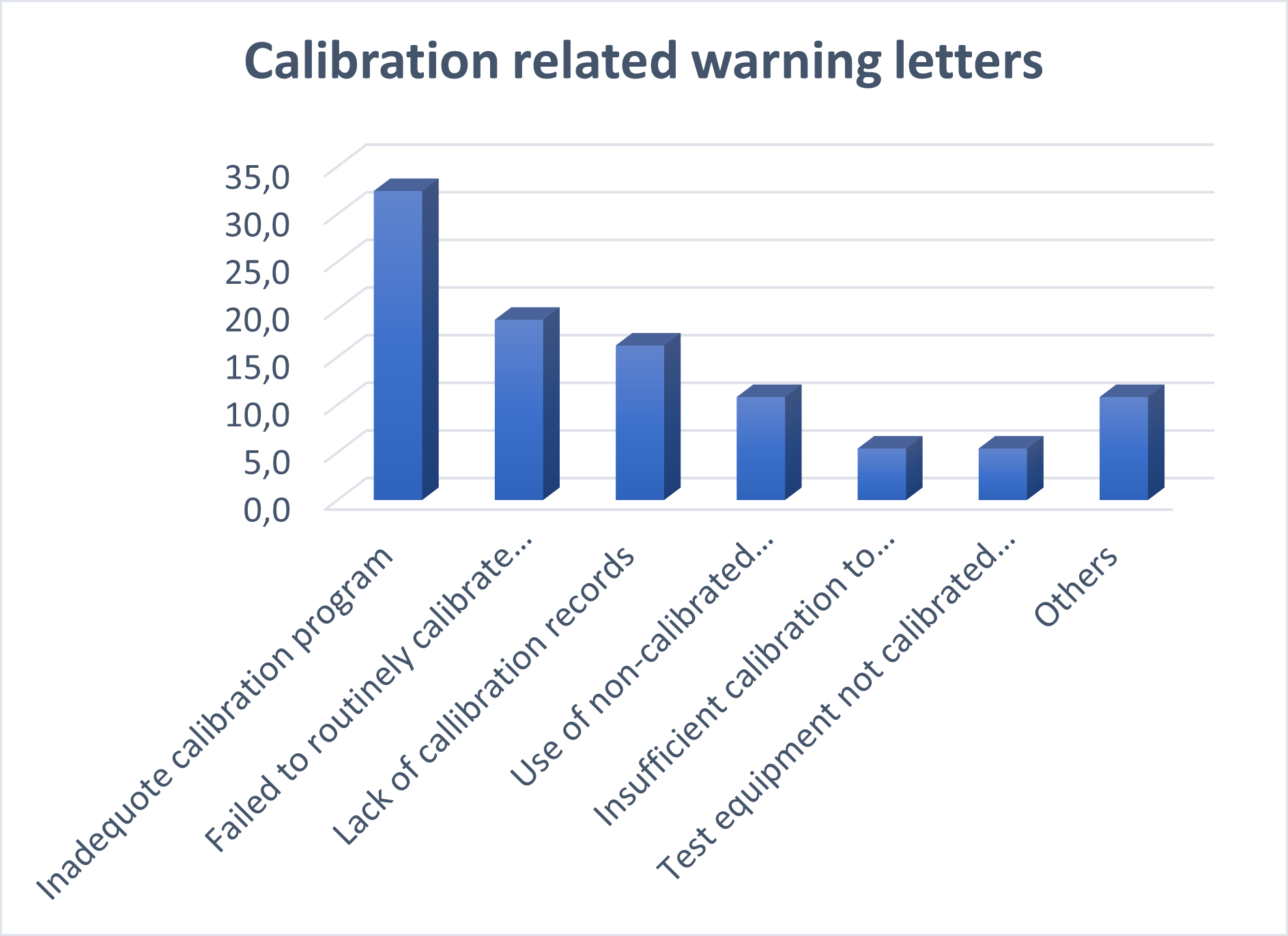 The top three reasons for calibration-related warnings – and how to avoid them
Let's look at the top three reasons and how to avoid them.
1. Inadequate calibration program
As we can see, the most common reason is "Inadequate calibration program", which accounts for a third (33%) of the cases. In these cases, the company has not had an adequate calibration program that would document how and when each instrument should be calibrated.
Creating and documenting a calibration program is a fundamental job for calibration-responsible staff. It naturally gets a bit more demanding to make sure it is "adequate" for the FDA auditor and fulfils all the relevant FDA regulations.

2. Failed to routinely calibrate instruments
The second most common reason is "Failed to routinely calibrate instruments", with 19% of the cases. In these cases, the company has simply not calibrated all instruments as they should have done.
The best cure for this one is to make sure you have an automated system that alerts you when instruments should be calibrated and ensures that all calibrations are done.

3. Lack of calibration records
The third most common reason is "Lack of calibration records", with 16% of the cases. This means the company has no evidence that calibration is being done. This one is quite similar to the previous type of case, but in these cases the company has somehow been able to convince the auditor that they have done the calibration but they don't have records to prove it, such as calibration certificates.
The cure for this one is to make sure your calibration system stores all calibrations digitally so you can pull out the records easily any time an auditor wants to see them.
How Beamex can help
We have worked and partnered with many of the top pharmaceutical companies for a long time. Many of the world's leading pharmaceutical and life sciences companies rely on the Beamex calibration ecosystem, which is designed to help customers achieve their calibration-related goals in line with regulations, like those from the FDA.
A lot of functionality developed for our calibration ecosystem has been to meet the requirements of pharmaceutical companies.
For pharmaceutical companies we offer, for example:
Calibration management software with many features developed especially for pharmaceutical companies
Calibration equipment for field and workshop calibration
Various expert services tailored for pharmaceutical companies


If you are in the pharma business, contact us to learn more about how we can help you to meet the calibration-related FDA requirements:
Related reading
If you found this article interesting, you may also like these:
View Beamex pharmaceutical industry page >>
Download your copy of the Calibration Essentials Software eBook to learn more about calibration management and software: