Seismic velocity measurements provide ideal resolution at typical rotating equipment running speeds. Vibration is always transmitted through the bearings used on rotating equipment. It has been proven time and time again that measuring vibration on rotating equipment is the most universally effective predictive maintenance practice for critical pumps, motors, compressors, fans, cooling towers and rollers.
For example, over time, industrial motor bearings wear out and begin to wobble. Eventually these bearings will need to be replaced, or the machine will fail. But how do you measure the bearing performance to be sure you aren't changing them out too soon, or in an even worse case, waiting until the machine breaks down and it's too late? There is a whole world of 4-20 mA loop vibration sensors, like the Seismic Velocity 4-20 mA transmitter from Metrix or IMI Sensors, and they are gaining in popularity.

Simple and cost effective, these sensors protect and monitor vital plant machinery. They measure the vibration in the bearings, helping to predict and forecast machine failure. They interface directly with the PLC, DCS or SCADA systems already in place for process instrumentation. Thus, no additional budget need be spent on monitoring or data acquisition. Plants that do not monitor vibration can enter into the practice with minimal upfront costs. 4-20 mA vibration sensors allow them to perform vibration trending and notify a technician for a more detailed diagnostic test of the machinery when its vibration alarm threshold is crossed. Still, these sensors only help in predictive maintenance, if they are providing accurate measurements. They need to be calibrated too.
During a presentation at the ISA Process Control Symposium in November 2015, Michael Scott, Industrial Product Manager and Certified Category II Vibration Analyst with The Modal Shop, presented Field calibration and testing of industrial vibration protection systems. During this demonstration, he calibrated a 4-20 mA vibration sensor.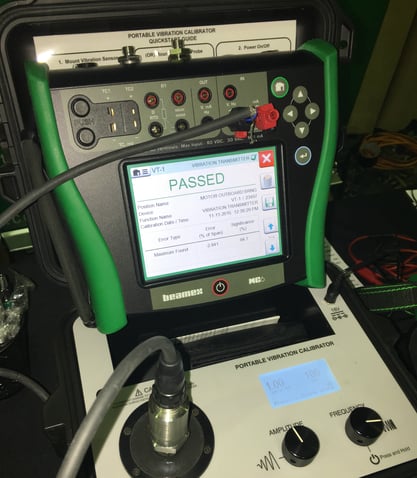 Using a shaker as a standard, he entered the make, model, and serial number into Beamex CMX calibration management software. Then, a tag for the sensor was created with an input of 0-1 inches per second peak, and an output of 4 to 20 mA (measured). The Beamex MC6 documenting calibrator prompted him to set the shaker to specific target points and log associated mA readings. When uploading the test, the CMX prompted him to select the shaker from a pick-list of standards to fully document what was used to perform the test (shaker serial number for the input and MC6 serial number for the output). The outcome is an automated, paperless vibration sensor calibration with a calibration certificate to provide proof and traceability, which not only verifies the accuracy of the sensor, but can be useful during audits, such as an OSHA VPP Star safety audit.