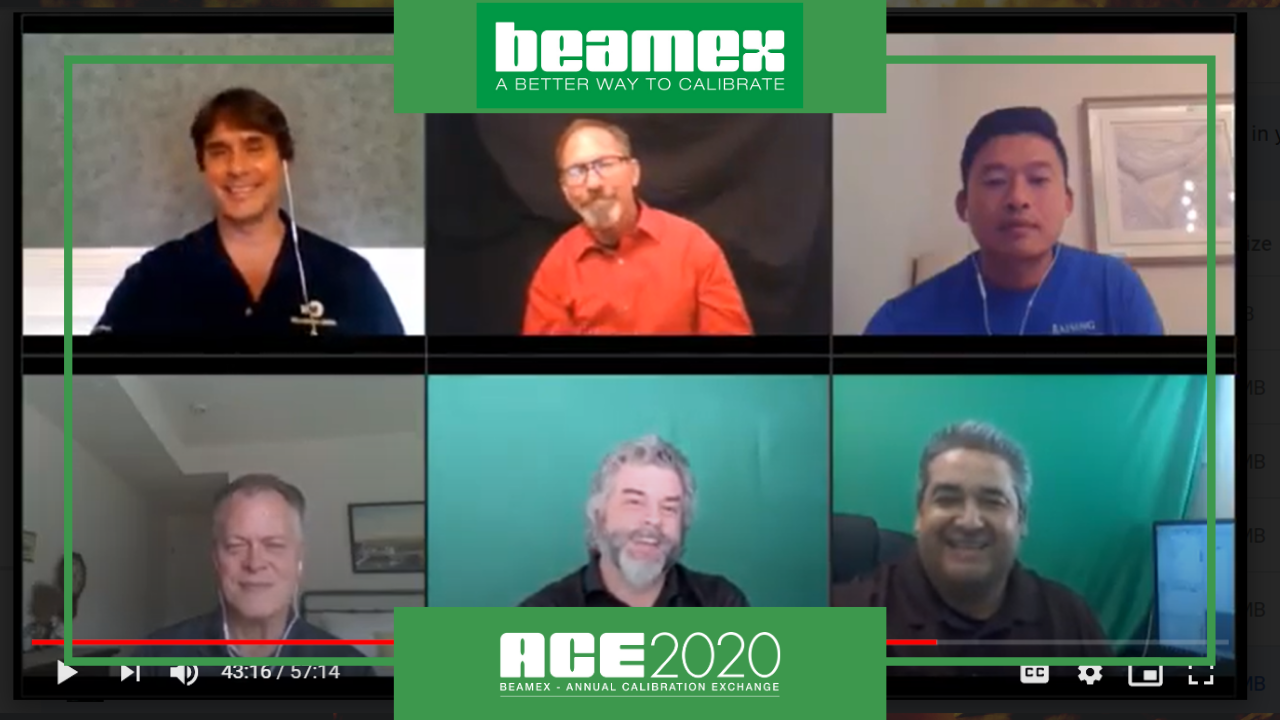 Recently, Patrick Zhao, Corporate Instrument & Analyzer SME for Braskem America, spoke at the Beamex Annual Calibration Exchange. He presented on Braskem's, the largest petrochemical company in the Americas, integration of their computerized maintenance management systems and calibration management software. The presentation was so well received that we wanted to share some of the highlights with you and also provide a link to the full video recording, found below.
Watch the presentation video recording now!
Braskem, a Beamex customer, uses MC6 calibrators to calibrate field instruments, Beamex CMX software, and the Beamex bMobile solution to perform electronically guided function tests.
In order to improve the automation of their maintenance and calibration work process, they choose to integrate the Beamex calibration software into their plant maintenance management software, SAP and Maximo, using a business bridge.
A business bridge simply allows communication between the maintenance management software (SAP and Maximo, in this case) and the calibration software (Beamex CMX) via an XML (Extensible Markup Language) data file format.
This enables the sharing of structured data, including position ID, location, serial number, and work order numbers, across the different information systems.
With the implementation of this business bridge, Braskem has reduced manual interventions and human error. Additionally, their management team can now see all necessary data related to compliance reporting and overall calibration in one place.
Prior to Beamex, Braskem had a pen and paper calibration process. That process consisted of an Instrumentation and Electrical (I&E) Technician being assigned a work order, writing down the results, turning the results into an I&E Supervisor who would scan it to a pdf document, and then mark the SAP work order as completed. Patrick notes that, "A lot of times that calibration data gets lost. That piece of paper gets lost."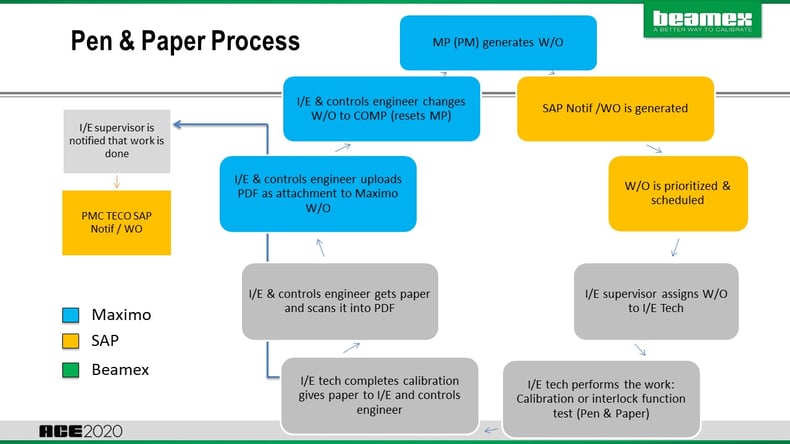 After Beamex was implemented, prior to the Maximo bridge integration, a similar process was used. Calibration Tech would be assigned a work order and they would use a Beamex calibrator out in the field to perform the calibration. From here, Beamex CMX could automatically send an email to the Process Maintenance Coordinator (PMC) who would then close the SAP work order. An I&E Approver would have to go back manually into Maximo and scan the Beamex calibration certificate into a pdf and manually attach that pdf to the appropriate work order to close it.
According to Patrick, this could take anywhere from 10-20 minutes per calibration.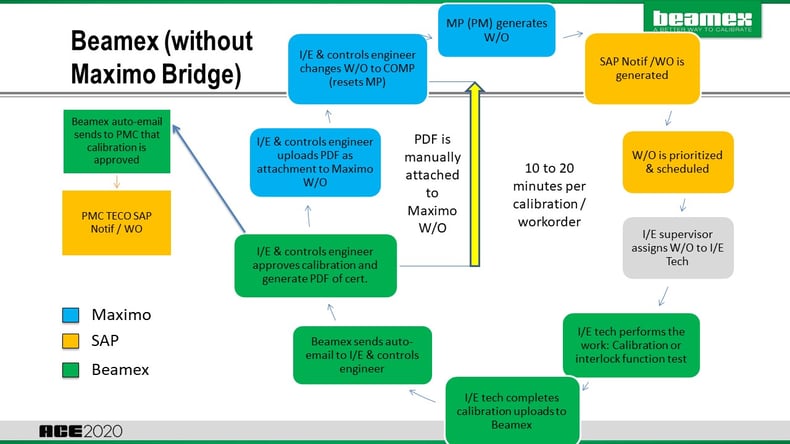 With the implementation of the business bridge between Maximo and Beamex, once the calibration is completed, Beamex sends an email to the PMC. The I&E Approver logs into Beamex CMX software and clicks on an approve button, once he enters his username and password, which serves as an electronic signature, the calibration results are automatically sent to Maximo and the appropriate work order is automatically completed.
"We save about 20 minutes per calibration/work order with this integration." states Patrick.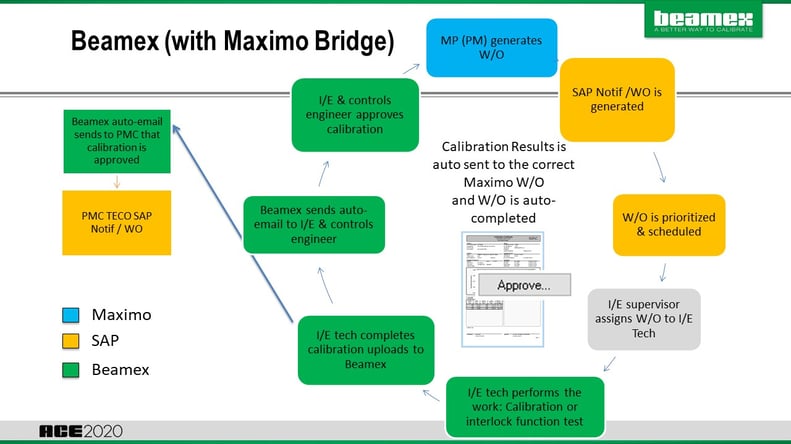 Overall system integration
For Braskem, system integration combined three programs; SAP used for functional location, equipment data, task lists, notification, and work orders. Maximo also has functional location and equipment, as well as the maintenance plan/scheduler, work orders, calibration data, and compliance reports. Beamex for position and device, function templates (including function and procedure), work orders, and calibration results.
The Beamex business bridge created a link between Maximo, which was already linked to SAP, and the Beamex software. By using a web or file service (Braskem uses a web service) which is XML-based, Maximo can speak to the web service which in turn talks to Beamex. Similarly, Beamex can talk back to the business bridge which goes to the web service and then back to Maximo.
Key benefits of integration
According to Patrick Zhao, the three key features of this integration are:
1. They can see SAP data inside of Beamex.
SAP and Maximo synchronize function location and equipment each night. With the Beamex bridge, they can synchronize the function location into the position and synchronize equipment into what's called device inside of Beamex. Maximo also handles work orders as part of the maintenance plan and these work orders can be seen both inside of SAP and Beamex.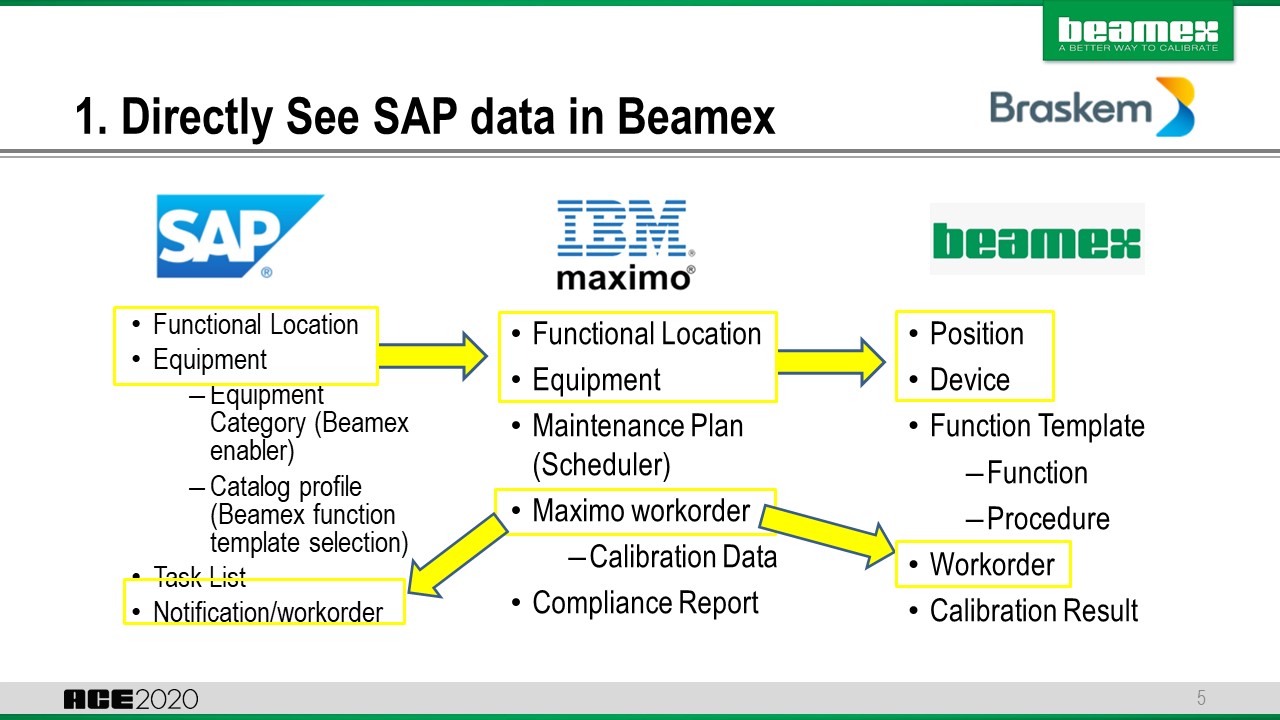 2. They can automatically generate calibration procedures based on templates.
Inside of SAP, in the equipment data, they set up the equipment category. I is for instruments, E for electrical, and B for Beamex compatible instruments. All equipment marked B can synchronize into Beamex. They also use the calibration profile in SAP. This defines what type of instrument it is inside of SAP. The same code is used inside of Beamex so Beamex can pick the correct function and calibration procedure template based on what the equipment is set up as in SAP. For example, if you have a pressure transmitter catalog profile then Beamex knows what it is and can automatically pick the template for a pressure transmitter.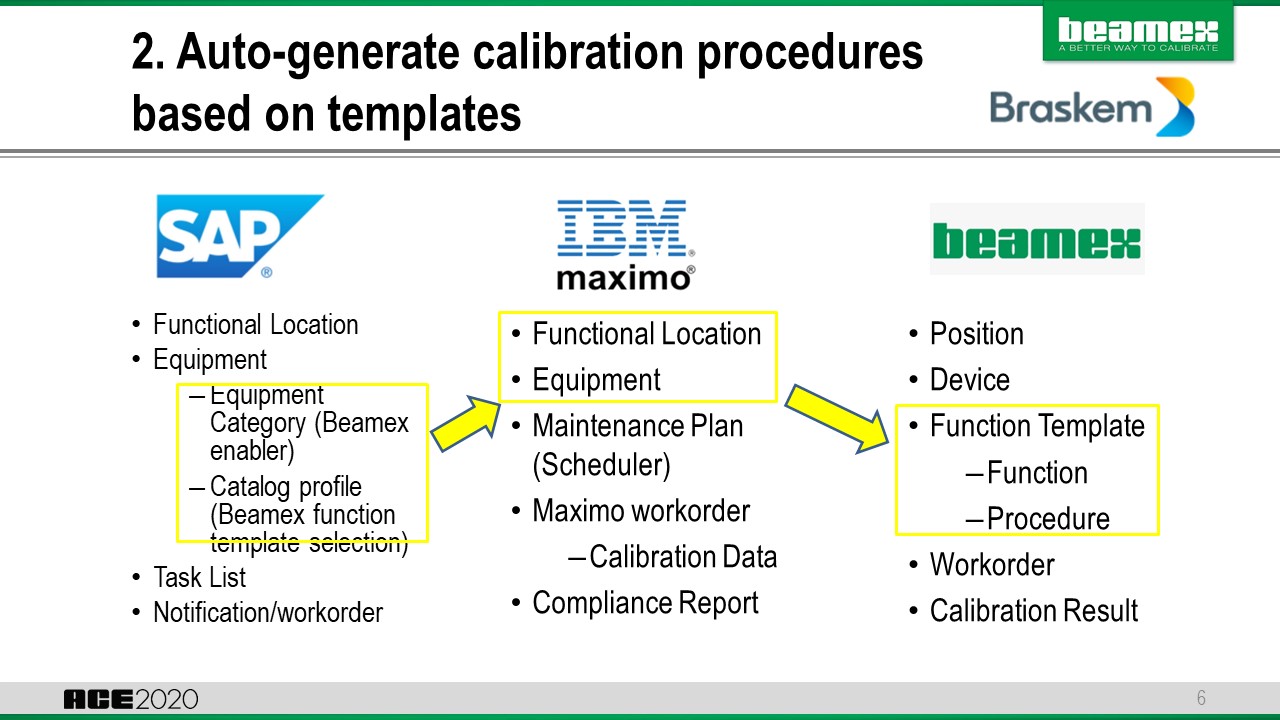 3. The ability to auto-complete a work order based on the calibration data
is the third feature, which Patrick Zhao refers to as the "key to how this thing works". As before, Maximo generates a maintenance plan and a work order, the I&E Tech completes the work, sends an email notifying the approver and the approver logs into Beamex, reviews the calibration result and clicks approve. Once the approved button is clicked the data is automatically sent back to Maximo. But now, this is also seen within SAP, which automatically resets the maintenance plan and generates a new date.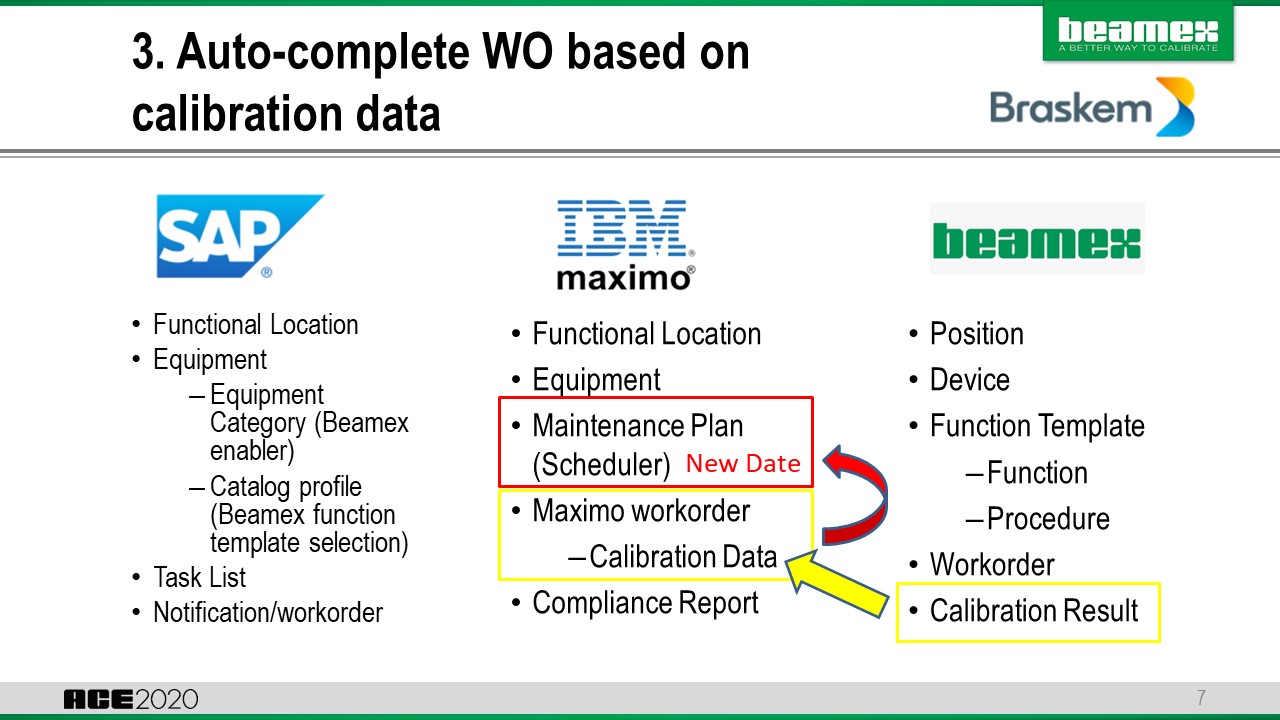 Patrick then shared a Beamex calibration result and screenshot of the Maximo work order calibration record. This area of Maximo was custom programed for Braskem and customized for Beamex. You can see the calibration number of the Beamex calibration result, the 'as found' and 'as found' error as a percentage. You can also see 'as left', an overall pass or fail and the actual finish date which is the same as the Beamex calibration result.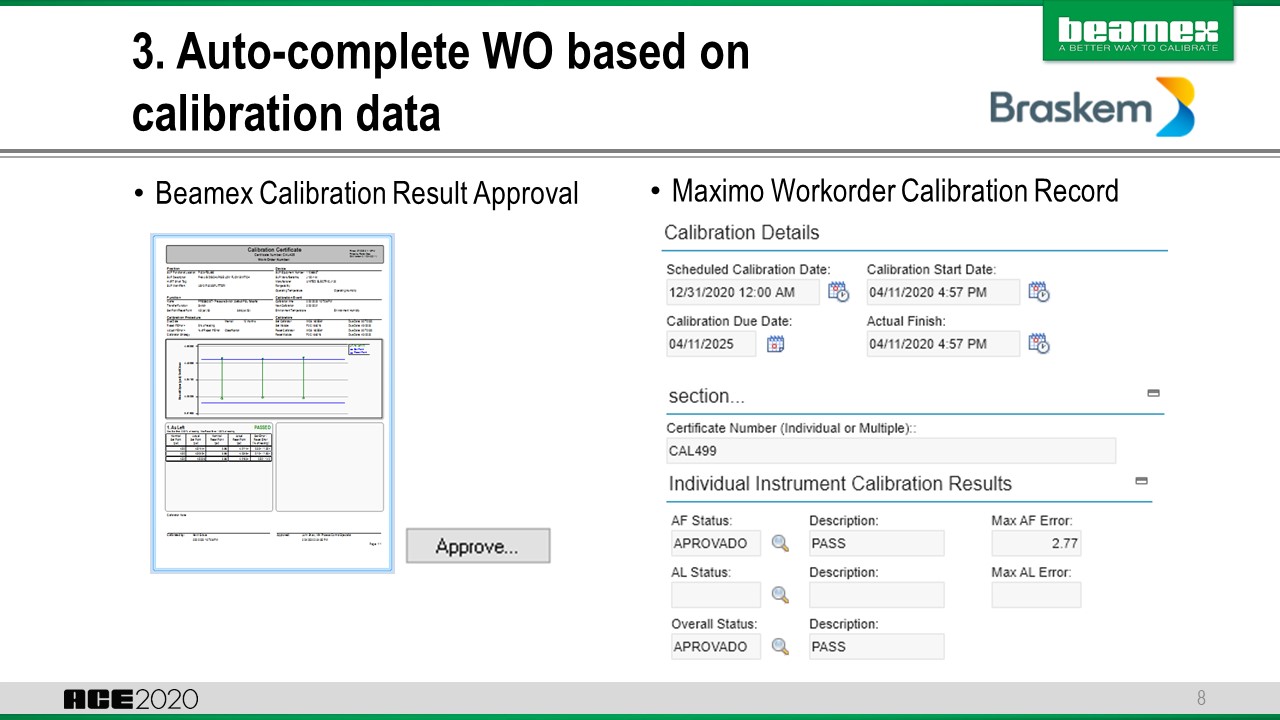 Conclusion
In conclusion, Patrick states, "Beamex Maximo bridge integration is very critical to our plant maintenance work process. We have had it for two years now and it's been working very well. We had a lot of support from Beamex. They're very responsive and it was very pleasant to work with Beamex to get this working."
The implementation of this integration means that the Engineering Approver can easily review the data and complete the calibration related maintenance plan work process using just the Beamex CMX software. There is no longer a need to log into Maximo and manually enter the data.
Braskem installed the standard Beamex CMX software and hired a programmer to program everything on the Maximo side to be able to take the data. The same can be done for SAP. For Braskem, it took approximately 2.5 weeks to complete the programming.
"Braskem America plants are using this Beamex calibration system and Maximo bridge integration every single day to ensure our critical plant instruments are functioning properly, in top performance and that the plant can run safely and produce a polypropylene product for our customers."
Learn more about how Patrick Zhao and Braskem America have bridged the gap between maintenance management systems and calibration management software by watching his Annual Calibration Exchange presentation. Be sure to stay tuned for the Q&A portion of the presentation for additional insight into the process.
Watch the video presentation!
Looking to implement calibration management software into your infrastructure?
Contact Beamex at: